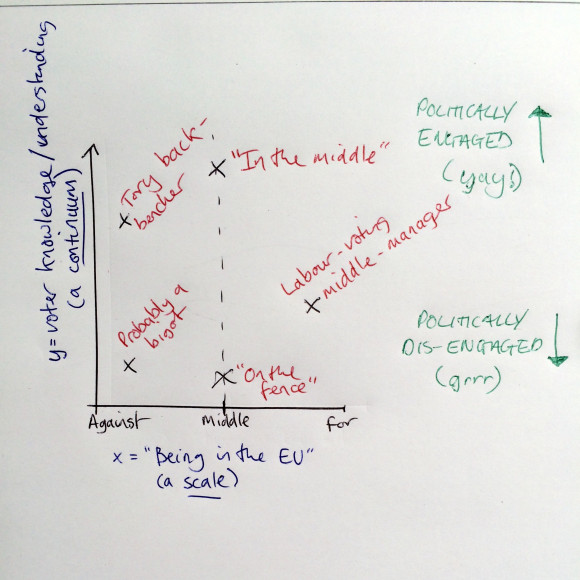 Many months ago and early on in the unfolding story of the British referendum to leave the EU, it was common to hear the electorate – at least presented by the media – decrying "we feel that neither side has really come up with a good enough list of reasons to" [delete as appropriate]: leave / stay in the EU.
As the months have worn on, this narrative of voters' views presented by the media hasn't changed, and we are still hearing that people aren't being armed with the information they need.
Yesterday's episode of The Today Programme was a case in point; a voter discussion group put together by global market research firm Kantar said "I just need a list of Pros and Cons for me to make up my mind". The same message came through loud and clear from others in this research group, yet only one of the members of the group had actually picked up the leaflet that was delivered through their door and read it.
Yes this was a government leaflet which presented information from one side. But isn't one-sided evidence a fantastic entry point for the inquisitive mind to learn about both sides' arguments? There's nothing like an outrageous statement from one camp to make you try and disprove it. All the better if that opening gambit is harder to disprove, as it can lead you down all kinds of other avenues of enquiry.
When my friends and family tell me they are not sure which way to vote, I ask further questions to determine whether they are like me, somewhere "In The Middle" as opposed to very much not like me "On The Fence". Because lazy I am not, and un-engaged I refuse to be.
(Note, I'm "somewhere in the middle", not bang in the middle, and I definitely have a gut feeling from which I will not depart.)
Being "In the Middle" doesn't mean I am not decisive on an issue. It certainly doesn't mean I blow whichever way the wind is blowing. It just means that I know there are Pros and Cons and although the decision is important, I consider it "swings and roundabouts". I may be better-off in one way, and worse-off in another.
The best analogy I have for the decision – and the tone of the debate – is if my firm were deciding to switch suppliers for a major contract. Despite going to tender, and assimilating hundreds of pages of technical information about service provision, there are still unknowns. (Known ones, and unknown ones…) Colleagues will be battling out the detail, suppliers will be making false claims, it's our job as the ones making the decision to decide on the criteria for a decision. Once that's done, you weed out the rubbish claims and work through the good ones. There's no right or wrong – just different.
I have sympathy with voters who feel frustrated by politicians. Perhaps deep down inside they too know there's no right or wrong, and when politicians present their side as a matter of morality or patriotism, it turns us off. It's not wrong to move your services from EON to Scottish Power, and we immediately switch off when someone tells us it's something we should be scared about. Likewise we switch off to those trying to bait us by telling us the outcome is certain when we know there can be no certainty.
When I hear that people are "On The Fence", this is what makes me shout at the radio. Of course we don't know what the UK will look like outside of the EU, we can never have a full picture of 21st Century UK outside of the EU.
Some say "look at Norway". No, this is Britain, it's entirely different. Some say "the UK will be returned to pre-Cold War days". No, this is the 21st Century, and we haven't just fought a world war. Also Britain didn't "join the EU", it was an alliance member of the Council of Europe after the war and was a formative influence, since which time much has changed. Britain joined the EEC much later in the 70s.
History was my weakest subject at school, but I remember being taught the definition of Empathy. This is a pretty good version: the imaginative projection of a subjective state into an object so that the object appears to be infused with it.
So when I learn that the reason my friends are "On The Fence" is that they haven't been presented with a clear set of Pros and Cons, I want to shout "get a grip and stop blaming your lack of understanding on a lack of evidence". It's EMPATHY that is required to work out whether you want to stay in a situation in which you have no experience of not being. The story of Europe unfolded over the course of decades and you won't find hard evidence of what it will be like if we left. Arguably we need to apply just as much empathy in working out what would happen as a result of staying in the EU, as we can't possibly know what's going to hit us in the coming years. Either way, decisions are best made with empathy, not facts.
My suspicion is that some voters hide behind their lack of engagement in the political process by demanding facts from politicians, when they should really be taking-on the decision for themselves.
For this is the beauty of democracy: the freedom to make your own mind up. In a representative democracy, it isn't the responsibility of our leaders to educate us in the facts.
So I have a low tolerance for voters who, when it comes to voting day, recoil and stay with what they know because they never got off the fence. That's just damned lazy.
I'll give you a few days during which time you can say you're "on the fence". After that, I'll say outrageously illiberal things like "you shouldn't be allowed to vote".