"Thank you so much. Your transcription was truly both humbling and enlightening. The section that begins at m.59 has, for the last thirty-some-odd years been one of my favorite passages of music. It is sublime. Screw all the "Down with transcriptions" people. I, for one, truly appreciate your Herculean efforts [they were Herculean, weren't they!?] regarding Ritooria. Nu? When is the next transcription coming up (he said, greedily rubbing his gnarled fingers together…)?"
– Peter at JazzTemple
[more jazz geek comments below]
As part of my undergraduate dissertation at Manchester, I set-about transcribing the works of Keith Jarrett's virtuosic improvised piano pieces. My first attempt is shown here: Ritooria.
Have a quick gander at these five pages taken from the transcription (to get an idea of what the score feels like), then download the full version in a zip file below these snippets: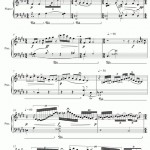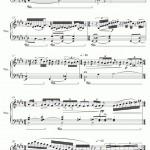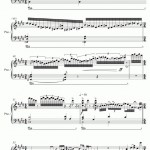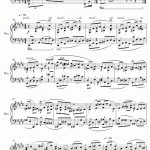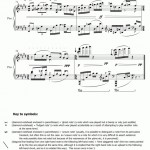 A bound copy of the score, including editorial notes, was thrust into the hands of an ungracious Keith Jarrett after about 2 hours of waiting in the rain at the end of a concert in London a number of years ago.  (Ok, perhaps he was exhausted, but still.) It had my number.  I saw him shuffle through the score whilst being driven off in his chauffeur-driven limo but that was it. I could vouch the limo was taken on this website. I also called his then agent who was sadly a little curt and showed no interest.
Quite a few Keith Jarrett followers have now asked for this since I ditched my old website, and so here it is.
UPDATE 13th April 2009: The below download is back online.
UPDATE 27 July 2013: The below download is back online… again!
This is for personal use only. Transcription copyright pending.
Download the score (PDF), editorial notes (PFD), and original MP3 from which the score was transcribed in a zipped bundle here: Ritooria – Keith Jarrett – Sheet Music and Audio (5.8Mb)
From the old guestbook:
"Ciao Mat,
Thank you for you incredible transcription of Jarrett's Ritooria!
I will study it real hard."
– Rudy
"Incredible job on the Ritooria transcription. Quite a feat, one of the more complex pieces on the record, rhythmically and harmonically. Was this done as a labor of love on you behalf? As an ear training assigment? A sadistic challenge? Whatever your reason, thank you! I have been a Jarrett fan for many years, and "Facing You" is my favorite solo piano record of all time. I look forward to any other "Facing You" transcriptions that you tackle in the future. And I would be certainly be willing to pay for them. Thanks again!"
– Greg Laporta
"I've been looking for transcriptions from 'facing you' for a long time. Appreciate the effort you've made. Maybe I can reciprocate someday."
– Robert Scurlock
"hey Mat,
Wow! Totally nice to get that transcription.
Finally I've just looked at it, but seems to be very well done work, perfect read-ability and looks like it took a lot of time.
Thank you for sharing it with us. You'll get another comment, when I played some part of it.
Thanks once again!"
– Phillip Enders
"Mat,
Wow! I am much impressed. And I must concur with garthhudson 2000 who, at the Yahoo Jarrett club, posted the following comment:
"finally someone transcribed that dang thing."
Though many a "purist" abhors the idea of taking one portion of a musical work out of the context of its whole, I do not. Mind you, I treasure Ritooria in its entirety, but the absolutely stunningly lush and beautiful passage from measure 59 (4:23) to the end has always held a special place in my heart for the entire thirty-some-odd years that I have been listening to Facing You."
– [previously posted as Anonymous. Later comment given from Peter at Jazztemple.]