I wrote in a previous post that I have a gut feeling about the EU referendum. In fact I have a gut feeling about most things, which is all the more reason I like to subject myself to criticism. Come and knock spots off me, show me how I'm wrong. In fact I'll go out to seek the counter argument. I'm opinionated, but I'm not entrenched. It's entirely likely I may rebut everything I find – or everything you say – but at least give me the opportunity to do so and to have the debate. The debate is just as important as the outcome.
Which is why the media coverage of the referendum has been so frustrating to date. It hasn't been a debate about the issues, rather one about the rhetoric of the debate. The debate is about the debate.
Anyway I'm not complaining about media representation here, I'm angry about something completely different.
You may have heard in the news that Microsoft wrote an email to their employees and business network urging them to vote to stay in the EU.
Well, it wasn't really an "urge", because it had nothing compelling in it whatsoever.
I suppose if you're a huge organisation, for PR purposes you can't possibly go too far down the road of siding with one political movement over another. Unless it's taking a stand against outright evil, it's best to be safe.
Here are my notes on the Microsoft Email. Michel Van der Bel, you have let me down, you have let your team down, but most of all you have let yourself down: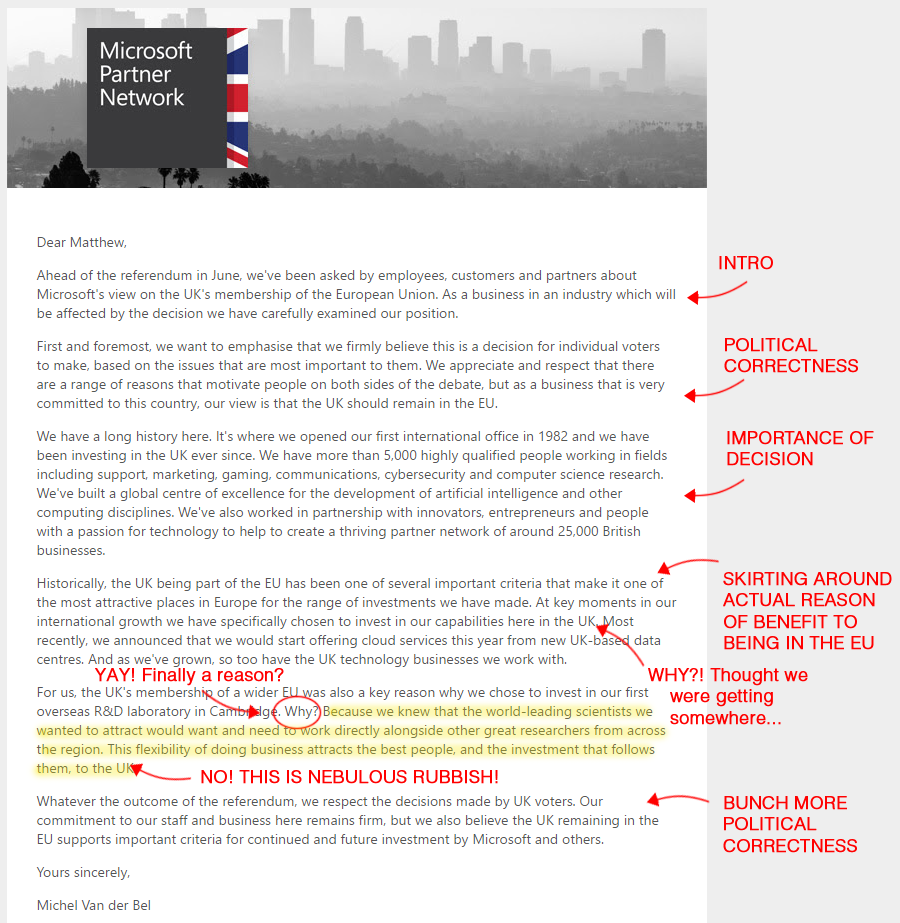 In the interests of balance, here's a letter from a small online bookshop based in Lincoln that I received with a shipment last week. Forget the different political positions that Microsoft and Anybook.biz have for a second; this letter is refreshingly different from Microsoft's letter in the following ways
a) It's very specific about the industry they are in, rather than the business itself
b) It is laden with statements of fact. While these need fact-checking, at least there is something to pin an argument on
c) it is direct, and it says how it will affect consumers as well as the business